20W fiber laser marking machine for mobile phones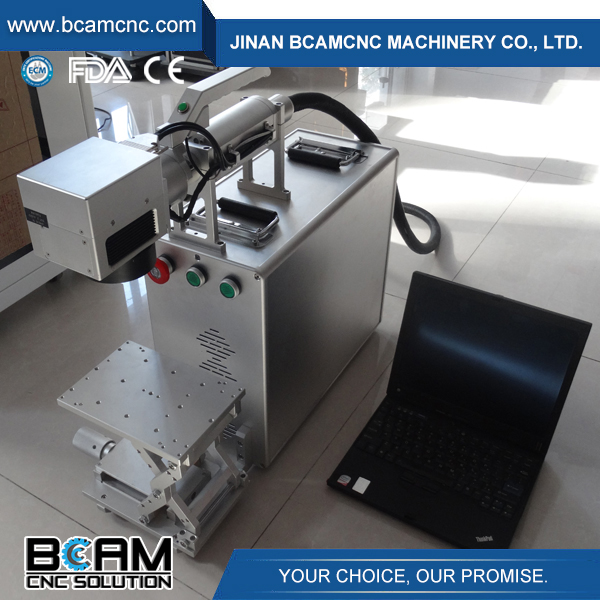 Specification
1.High rate of electricity transportation.
2.Function is stable .
3.It can work consecutively and long time continuously.
4.Life time of laser marking is very long, 1000,00 hours.
5.Galvanometer and field lens
6.Size 100*100mm(150*150mm/200*200mm/300*300mm)
7.Marking Speed 8000mm/s
8.Electric up-down platform
Application   
It can be used in mobile phones buttons,plastic translucent keys, electronic components, IC,sanity ware,tools accessories,medical device industry,jewelry,etc.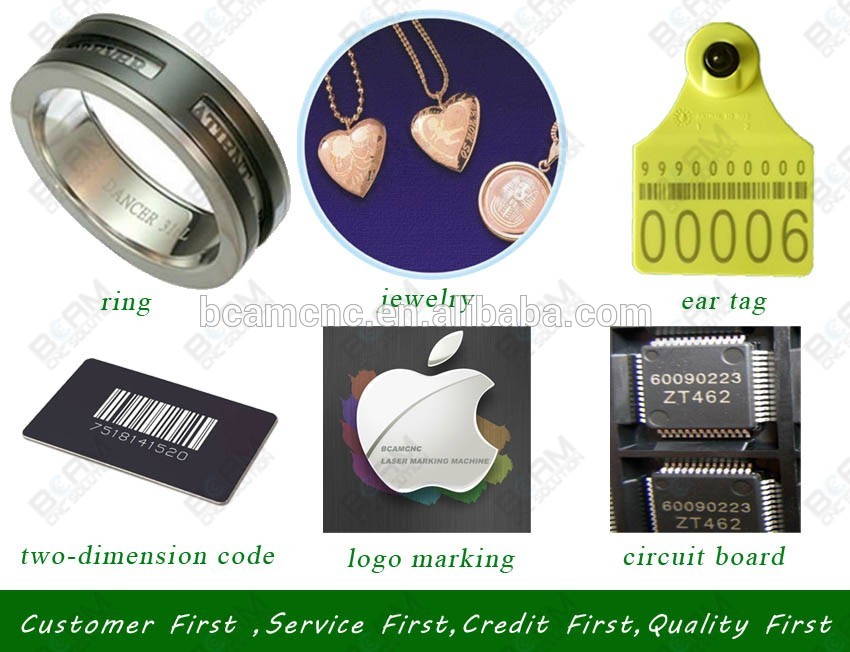 Machine features
High-tech,and it can make on both metal and non-metal.
Self-clean system
Lifetime over 100000hours.
Accuracy and speed is very well.
Machine paraments
| | |
| --- | --- |
| Beam quality | M2 <1.5 |
| Output power | 10%~100%(continuously to be adjusted) |
| Output frequency | 20KHz~100KHz(continuously to be adjusted) |
| Power stability(8h) | <±1%rms |
| Focus spot diameter | <0.01mm |
| Marking size | 150mm×150mm |
| Matching size | 50mm×50mm 100mm×100mm  200mm×200mm  300mm300mm |
| Carving depth | 0.4mm |
| Carving speed | Linear scan 12000mm/s |
| Minimum line width | 0.012mm |
| Minimum character | 0.15mm |
| Repeated accuracy | ±0.002mm |
| Laser module | original imported |
| System operation environment | WindowsXP/2000/98/Windows7 |
| Cooling mode | Water cooling |
| Temperature of operation environment | 15°C~35°C |
| Power requirement | 220V/ single phase /50Hz/<400W |
| Life-span of laser module | 100000 Hrs |
Picture of Samples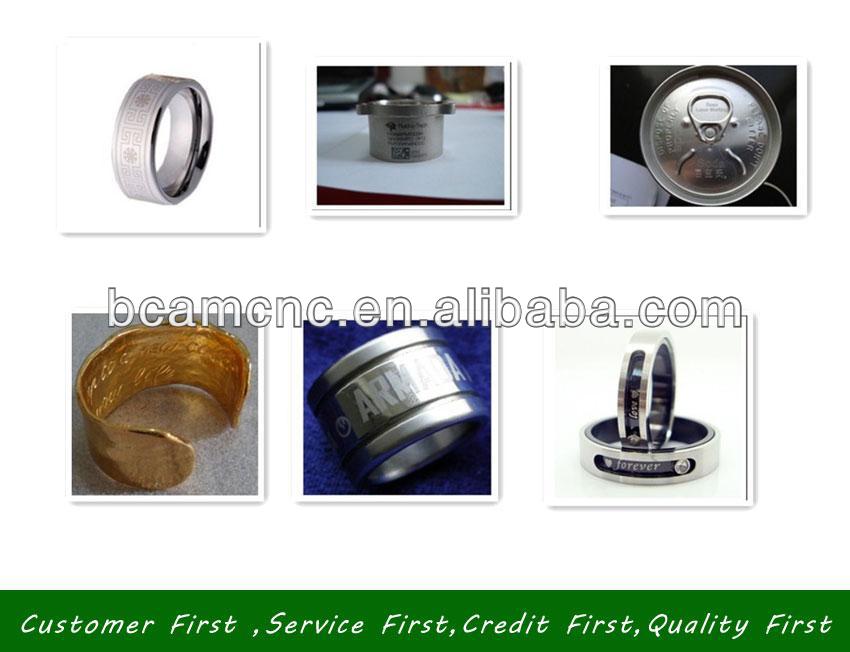 Picture of Parts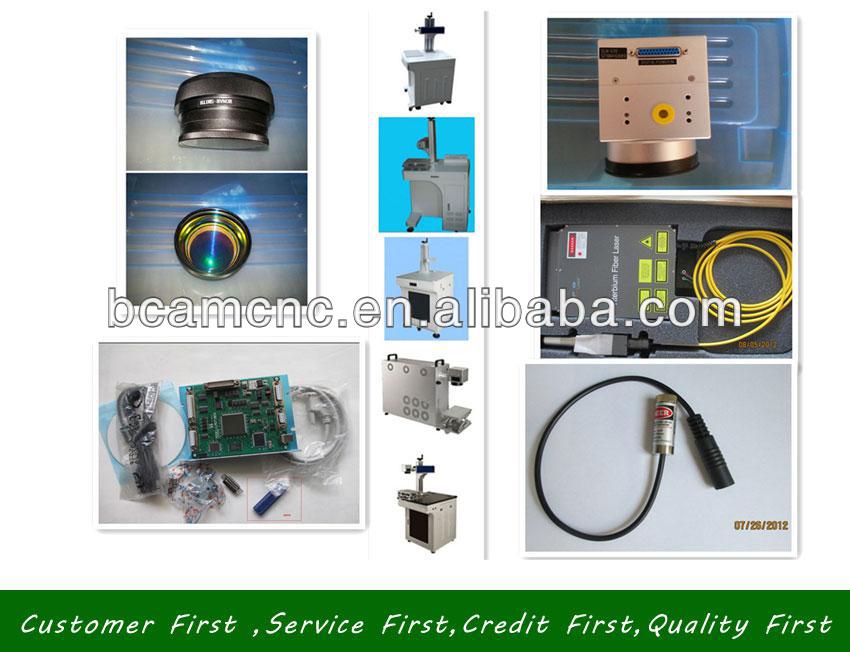 Picture of Factory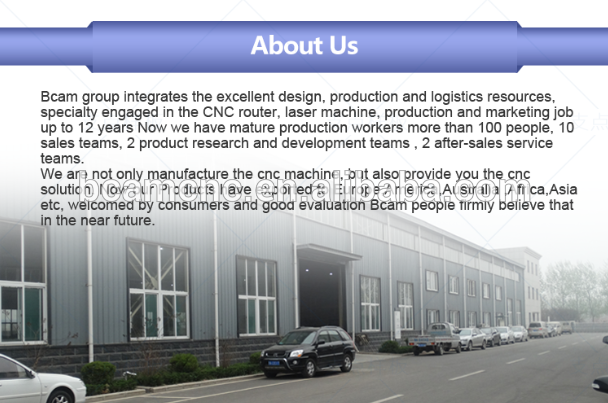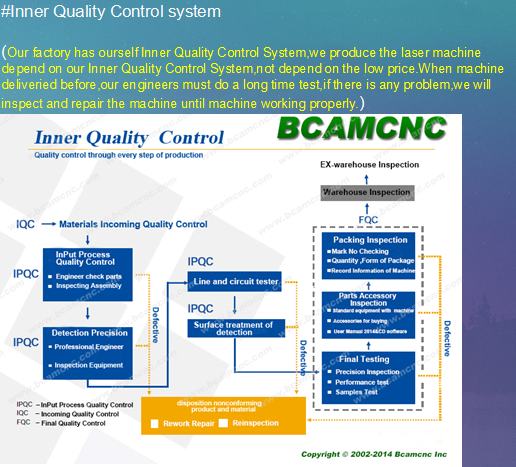 Why you choose us ?
1.BCAMCNC product is widely used in almost all the materials which you can think of.
2. BCAMCNC company is specialized in cnc router and laser machine manufacturing and selling. There is no middle man and no agent, so the price is best.
3.CAMCNC machine with high precision and high reputation is the most reliable goods you can choose.
4.CAMCNC company has all kinds machines in store, the delivery time is much shorter than other companies.
5.BCAMCNC Company has international tech service office and provides 24 hours online service and tech support for customers.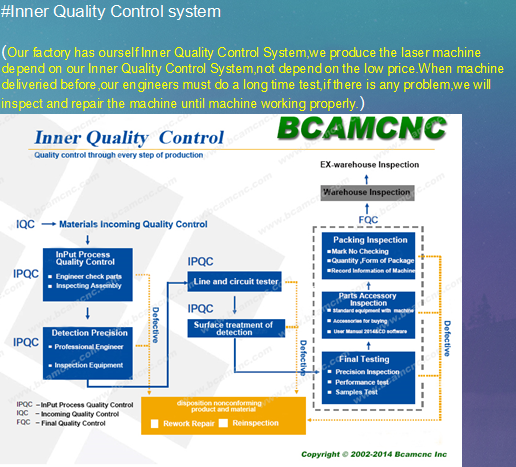 Contact us
JINAN BCAMCNC MACHINERY GROUP 
Room 417 ,Zhengda Time's Building ,Jiefang Road ,JINAN CITY ,Shandong PR ,CHINA
Tel: +86-531-67864283        Fax : +86-531-67864283 
Skype: bcamcnc08                 Cell phone: +8618615257636
"Global High End CNC Equipment Suppliers " ---BCAMCNC Group 
Company Advantages
1. A series of tests ensured the quality of DaLong CNC Machine flatbed laser cutter. These tests include fiber appraisal, the performance test, and the flammability test, all accord with the textile standard.
2. In order to meet the standards of the textile industry, DaLong CNC Machine 3d engraving machine is produced under strict quality control. We check and test the quality control of size matching, color fastness and color matte finish.
3. In the production process, DaLong CNC Machine portable cnc router is subject to strict inspection and control. It needs to pass the eco-textile test, which means azo dyes and heavy metals are excluded.
4. This product is simple in design. It is designed with straight edges and or defined curves and it has clean lines with a beautiful look.
5. This product contains no toxic substances. The harmful chemical substances that would be residual have been totally removed during production.
6. This product will not easily give out a smelly odor. Its strong hypoallergenic surface can effectively prevent the build-up of bacteria and germs.
7. This product can always retain its original shape. Its shape is unaffected by temperature variations, pressure, or any form of collision.
8. With years of business practice, DaLong CNC Machine has established ourselves and maintained excellent business relationship with our customers.
9. We also run mini cnc machines for years.
10. We are a Guangzhou DaLong CNC Machinery Technology Co.Ltd dealing with 20w laser cutter.
11. DaLong CNC Machine is proud of building friendly relationships with new and existing business partners.
12. DaLong CNC Machine specializes in locating exquisite liquid packaging machine and professional services.
Company Features
Guangzhou DaLong CNC Machinery Technology Co.Ltd is thought highly of in the domestic market. We are mainly known for excellence in developing and manufacturing jar sealing machine. As an expert in producing jar sealing machine, Guangzhou DaLong CNC Machinery Technology Co.Ltd has transcended most other peer manufacturers in the domestic market. Highly reputable in developing and manufacturing jar sealing machine, Guangzhou DaLong CNC Machinery Technology Co.Ltd has achieved success and become one of the leading manufacturers. Relying on jar sealing machine of premium quality, Guangzhou DaLong CNC Machinery Technology Co.Ltd is widely known as an expert with deep knowledge and abundant experience.
Our factory has a complete quality management system which provides specific requirements for equipment operation, technology, product inspection, and scrutinization. The factory has a set of production tracking management system which controls the entire production operations and quality management. Our modern factory is equipped with highly advanced production facilities under the principles of zero pollution and cost efficiency. The factory owns state-of-the-art large-size production machines in the jar sealing machine industry. These machines offer support for daily production needs, including product developing, designing, production, and packaging.
Bringing in a set of the first-class infrastructure for waste treatment, we have strong determination to handle environmental issues. These infrastructures will help us handle and dispose of wastewater and waste gases in line with international best practice. We actively respond to environmental issues. We will work closely with other governmental departments to minimize the negative impact or damage to the environment. For instance, we accept the authorities' inspection for waste handling. To upgrade our production ways to minimize pollution, we have introduced adequate facilities for the disposal of wastes. These facilities enable us to handle wastes in line with international waste treating standards.
Application of the Product
laser cutting manufacturers info can be applied to different industries, fields and scenes.
Since the establishment, DaLong CNC Machine has always been focusing on the R&D and production of With strong production strength, we can provide customers with personalized solutions according to customers' needs.